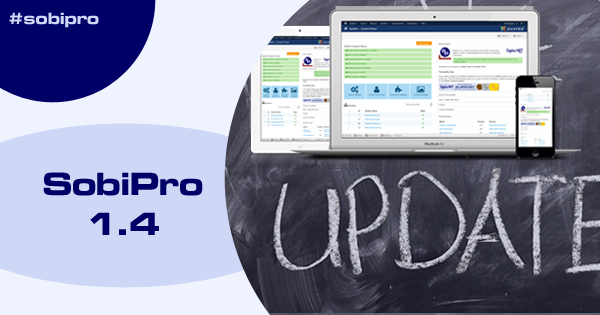 We released SobiPro 1.4. This version has a revised back-end layout to fit the style of Joomla 3.7/3.8 and a few more new features such as the category dependent fields (entry fields). With the entry fields you can determine which field should be shown in which category without modifying the template file.
Additionally we added basic template development support by highlighting the fields in the front-end views.
The possibility to purge a section lets you remove all testing entries at once.
SobiPro 1.4 is cleaned up from legacy code for old applications written for SobiPro 1.0 and some other not longer used code.
The default3 template for Bootstrap 2 is removed and will be available separately if necessary.
The category images are now located in the /images folder instead of the /media folder and will be used from there. With that we followed Joomla, where the media manager is by default set to that folder in the meantime.
17 bugs were fixed in SobiPro 1.4. Unfortunately we could not fix all open bugs. They will be addressed in the next version of SobiPro.
It is recommended to update SobiPro, especially if you are using Joomla 3.8!
Please see the changelog list for a full list of all changes and bug fixes.