SobiPro uses an standardized advanced template engine for the front-end templates. These templates are built in XSL. XSL stands for EXtensible Stylesheet Language, and is a language to process XML documents. With XSL you can build powerful templates.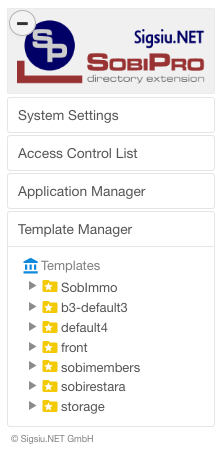 SobiPro uses XSL templates to render its output. What does this mean?
As you can have a different template package for each section you build, there is a global template manager available to show and manage all installed SobiPro template packages and files. Just select Template Manager from SobiPro's control panel or from the upper right menu.
Each section has additionally its own section template manager where only the files of the template, used for that specific section is shown.
SobiPro comes with a default template pre-installed. This template is highly configurable and fits most of the needs. In its fifth version now, it is called 'default5' (V5). This template is made for Bootstrap 3 and Font Awesome 4. If your Joomla template does not use Bootstrap 3, either activate Bootstrap 3 for SobiPro content (in the section configuration) or change the Bootstrap 3 specific HTML code into Bootstrap 2 code (experienced users).
A template package consists of several XSL template files for the different views of SobiPro. The currently loaded template file of a section, depends on the actual SobiPro task. Additionally a template packages has CSS and Javascript files included.