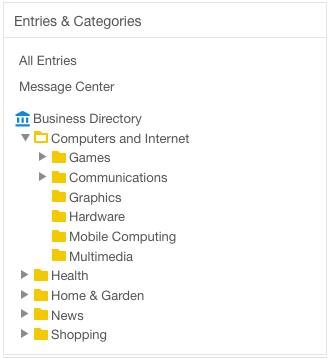 In the 'Entries & Categories' menu, you can manage your section's data (entries and categories).
After you have completely set up your site, you will probably need just only this menu.
By default there is the sub menu item 'All Entries', where all entries in this section are shown. In the document All Entries View you will find a description of all functions which are available from there.
Depending on the installed applications, other sub menu items may appear here to manage their data, e.g. the 'Message Center' (Notifications application) to mange the sent emails for this section (directory) or the list of 'All Reviews and Ratings' (Reviews & Ratings application).
Below all sub menu items, the category tree is shown. You can manage here all categories and entries within these categories. Open sub-categories by clicking on the caret sign () left of the category name.