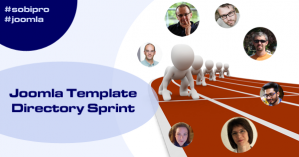 Perhaps you already know the Joomla Extension Directory where Joomla extension developers can add their extensions. Also SobiPro is listed in the Joomla Extension Directory (JED).
Very soon Joomla is now offering a Template Directory.
The template directory will be built also with SobiPro, as already several other official Joomla directories. To get the best from SobiPro, the whole SobiPro team volunteered for the Template Directory team.
To get things done, we are going to have a sprint this weekend (Friday to Sunday) in Frankfurt, Germany. Our high hope is to present the template directory in Italy during the Joomla World Conference.
From Thursday, the 19 October until Sunday the 22 October 2017 we will be able to answer to support tickets or emails only sporadically.