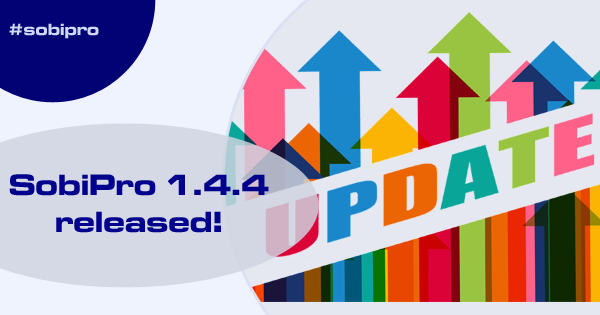 Update: Due to a problem with SobiPro 1.4.4, we released SobiPro 1.4.5!
This new version includes 13 new features, 16 changes and 27 bug fixes.
New features:
We added the new ACL rules 'approve.own', 'access.expired_any' and 'access.expired.own' to SobiPro's ACL.
Also the default template comes with new features, such as the possibility to define own template colours in the template settings, additional button colours, a new colour theme 'pastels', and the new template style 'elevated'.
Some template improvements are made, such as an information in entry form if a field is administrative, the possibility to show the category icon next to its name, an expired flag on front-end for expired entries (if user can see expired entries) and an improved file upload element.
The Joomla menu page heading (if any) will now be shown instead of the SobiPro page heading and in the entry form the protocol from a pasted URL into an URL field will be extracted and automatically selected in the protocol select list.
Please check also the full changelog list for all changes and bug fixes.
SobiPro version 1.4.5 needs framework version 1.0.3 which is included in the SobiPro installation package.
It is recommended to update SobiPro!