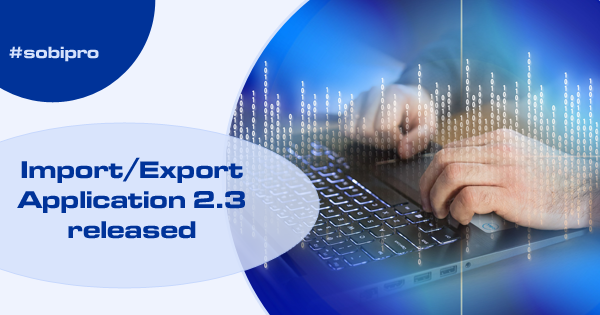 Version 2.3 of the Import/Export Application is available to download and in the SobiPro repository.
The SobiPro Import/Export Application enables to import entries and categories to a SobiPro section from a CSV File and to export entries and categories from a SobiPro section to a CSV or XML file.
This is a major update with new features and several bug fixes. Update is highly recommended!
This new version includes missing adapters and the possibility to im- and export category fields. Also the im- and export for categories is improved and contains now the missing base fields. Furthermore the category export to XML file, and the category export and import via CLI (command line interface) are implemented, as well as the skip fields feature for category data import.
The user interface is revised and got a new look which fits to the new SobiPro 1.4+ series and is fully responsible to use on mobile devices. The output of the CLI interface is also improved by showing additional information during the im- and export process.
Besides 14 additions and 11 changes we fixed 19 bugs.
More information are available in the Changelog of the application.
The Import/Export Application is available for Silver and Gold Subscribers.