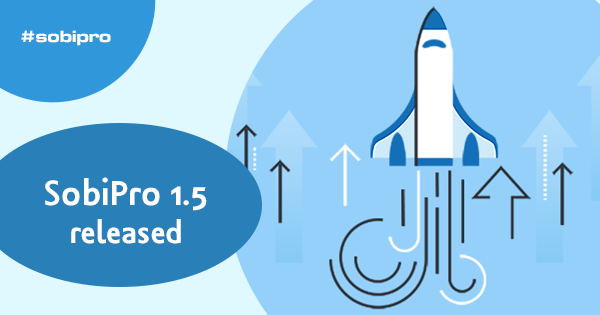 SobiPro 1.5 released.
It comes with a lot of new features, improvements and bug fixes!
The front-end design has be improved.
The default template is now default5. It makes use of Bootstrap 3 and Font Awesome 4 by default. We implemented the free version of Font Awesome 5 to be used on front-end. A new template entry form style was added. It is useful for small page layouts. The description and introtext of the primary category can be passed to details view and a new configuration setting allows to show the full pathway also if a Joomla menu item has been set to a category or entry. Sorting entries by the content of a radio field is now also possible as well as the possibility to show the alpha listings category dependent. RSS feeds generation can be switched off. Several small improvments have been made.
Big improvments have been made to the search feature.
The search ordering can be set to other orderings than priority now and the second search ordering has been extended by the possibility to sort the entries by the content of a specific (sortable) field. The search ordering can be set from front-end and if the search term input field is left empty and no extended search is selected, a wildcard search will be performed automatically. On the search results page, the number of shown entries and of entries in one line can be set now independently. The search results counter value is additionally available in the XML stream and can be shown separately.
There are also several improvements in the back-end.
The modified date of entries/categories is now shown in the overview lists as well as the content of single select lists and radio button fields. We gave you more control over the entry history. You can delete now some or all history data from an entry.
Also the fields manager has been improved.
Two new functions are available now from the fields list. These are the possibility to duplicate fields and to copy fields to another section.
Please check also the full changelog list for all changes and bug fixes.
SobiPro version 1.5 needs framework version 1.0.10 which is included in the SobiPro installation package.
It is recommended to update SobiPro!
If you created field options (select list, checkbox group, radio buttons) which consists of only a number, please export your entry data (select list, checkbox group, radio buttons) before update and import them after update as these options will be changed to an alphanumeric string as it was written in the documentation! If you have any questions about that, please contact our support.