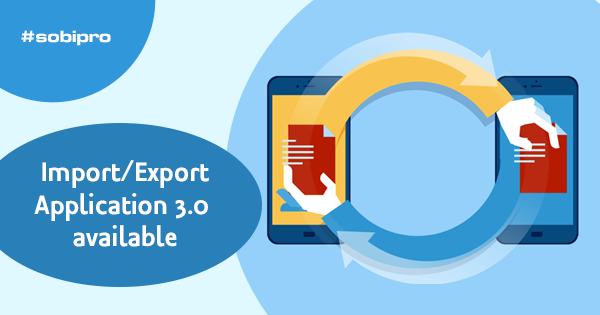 Version 3.0 of the Import/Export application is available to download and in repository. This is a major update introducing some amazingfeatures.
The SobiPro Import/Export application enables to import entries and categories to a SobiPro section from a CSV File and to export entries and categories from a SobiPro section to a CSV or XML file.
This major update has the following features included:
History logging for entries. If an entry is imported, a history log for that entry will be written.
Simple mode added for calendar field, image field, gallery field, url field, email field, download field, and profile field. In the past, the Import/Export application exported tha data as they are needed to re-import them in SobiPro. Therefore some complex fields have a structured output. With the new simple mode, also complex fields will be written in a human readable way to use them otherwise. Please note, importing the simple data in SobiPro will mostly result in missing information.
Export only of entries and categories which belong to a selected category and its children. In the past the Import/Export application exported always all entries within a section. Now you can limit the number of entries exported to those belonging to a category and its subcategories.
Possibility to import empty values to clear fields. In the past the Import/Export application skipped empty values in the CSV files. With this it was not possible to delete the content of a field for an entry. If set so, the application will now delete field values on empty data.
The structural export data of the calendar, image and gallery fields are simplified, means that unnecessary data are removed from the fields' output.
Additionally we made the application more robust against operating errors, like having a header line but not excuding it in the settings. The possible messages on the screen, are now coloured to better distinguish error messages from log messages. Also the images folder in an export archive now uses the image resp. gallery field's alias name to better differentiate several image or gallery fields.
Seven bugs were fixed too.
More information about the update are available in the Changelog of the application.
The Import/Export application is available for Silver and Gold subscribers.