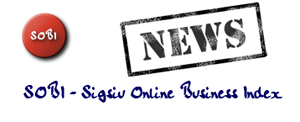 Sigsiu Online Business Index
SOBI - Sigsiu Online Business Index is a component for the WCMS Joomla! to show entries of companies.
Via the web interface, the customers (companies) enter themselves in the index. The options "Show Logo/Image" and "Detailed Description" can be for free or not. The entries are divided into categories. All entries can be searched using the implemented search function.

Via a menu module all categories with entries are shown. A module for the latest entries shows the newest/latest entries of the listing.

By changing the texts in the language file, SOBI can be used as a directory for other themes too.

SOBI is almost entirely configurated within the backend. The layout of the frontend can be changed using the separate CSS file. The component is XHTML 1.0 Transitional Valid.
SOBI is based on the component JAddresses of Ramiro Gómez.
SOBI is published under the GPU/GPL licence. The only exception from the GPU/GPL licence is the script "js Color Picker" of Alf Magne Kalleland. This script is used in SOBI with agreement of the author.