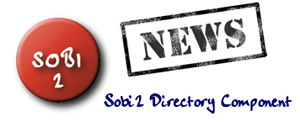 A new version of SOBI 2 is now available.
SOBI 2 - Sigsiu Online Business Index 2 is a component for the WCMS Joomla! to show entries of companies. The entries are divided into categories, which can contain subcategories. One entry can be entered in up to five categories. The companies enter themselves in the index. A security code (security image) is available for spam protection. Registered users can modify or delete their entries.

Using the integrated Category&Entry Manager in the backend all categories and entries can be managed comfortably. Entries and categories can be deleted, unpublished and moved.

A Field Manager can be used to configure each field entirely. This concerns the ordering, obligatory fields, fees, field length (width of field and number of characters), field type (textfield or textarea), in which view a field should be shown (cards view and/or details view), and much more. The standard fields can be deactivated and new fields can be added. Thus, the business directory simply changes to a directory for other items (clubs, music, books, aso).

Download the new SOBI2 version in our Download Section.