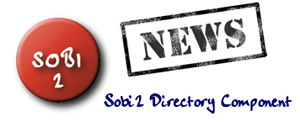 Today we released SOBI2 RC2.5.9 and a Flash MP3 Player Plugin.


Changelog:

# Bugfix: Missing end tag in RSS link fixed
# Bugfix: Media field fixed
+ Add: Possibility to leave Background image and border fields free
! Change: Version checker: getting actual version from XML file



The Flash MP3 Player Plugin extends the standard SOBI2 media field. Instead of the standard mp3 player of the operating system/browser the Flash mp3 player from Jeroen Wijering will be used.

The Flash MP3 Player plugin is released under GNU/GPL license, but the Flash MP3 Player from Jeroen Wijering is released under the Creative Commons License. That means that the player must not be used for commercial purposes.
For commercial use, Jeroen Wijering distributes licenses of the script. For more info and instant ordering, please advance to his online order page !

Download the new SOBI2 version and the Flash MP3 Player Plugin in our Download Section.