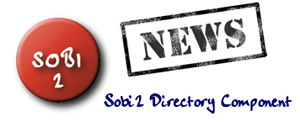 In the new version a new search function has been added (has to be adjusted in Configuration->Use Extended Search Function) which allows also searching in categories.
The category description can now be modified through mambots. Also for selected fields, mambots can be executed through a special call in the templates. A new editor with syntax highlighting has been added for editing of CSS file and templates in the back-end. Also a new plugin method "replaceData" is available. We have also fixed some small bugs.
SOBI2 RC 2.7.4 is now Mambo 4.6.x compatible.