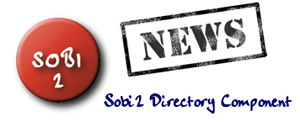 Sigsiu.NET proudly presents a completely new version of SOBI2.
For the first anniversary of SOBI2 we release the new version RC 2.8.0 of our component.
Together with our community we have worked hard to make SOBI2 more flexible and more useful as a universal directory component and not only as a business directory. SOBI2 has a wide range of options and will suit for many situations.

In the new version you will find a lot of new features, like

Select list / select box field type
Check box group field type - multiple choice
Calendar field type
Field attribute "administrative" - field editable only for administrator
Alphabetical listings
Listings by selected tags (metakeys)
Recently updated listings
Recently added listings
Most popular listings and categories
Most popular listings only
user listings
....
... and much more other new features. You will find the full list of new features and changes in the changelog.



The new version has been rebuilt totally to be fully compatible with Mambo 4.6.2+ and Joomla! 1.0.12+ and to be much more secure. For example, almost all global declarations and variables in file inclusions has been removed to prevent any possibility to override some variables on lesser safe servers.

Because of the security changes in SOBI2 it was necessary to redesign the plugins also. We publish the most of our plugins in a new version only for RC2.8.0. Revision of the other plugins will follow. The new plugins won't work with older SOBI2 versions.

Please follow the upgrade instructions carefully.