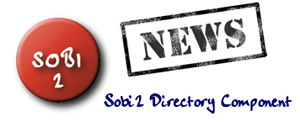 We developed a SOBI2 plugin to create search engine friendly URLs for SOBI2.
The plugin is for use with the OpenSEF SEF component.

A standard SOBI2 URL looks like that: http://site.com/index.php?option= com_sobi2&sobi2Task=sobi2Details&sobi2Id=1&Itemid=34

The SOBI2 OpenSEF plugin creates something like that: http://site.com/directoryname/entry.html or http://site.com/directoryname/categoryname/entry.html

The created URLs are stored in the OpenSEF database tables. Therefore you are able to change them afterwards.
Some of the settings of OpenSEF will be used for creating the URLs. These settings are:
The replacements list
SEF:Replace Space Character
SEF:Remove Characters
SEF:Multi-Page Numbering
SEF:Multi-Page Prefix
Features:Use Content Auto-Mapping
Advanced:Enable Debug Mode
Advanced:Enable Debug for IP
The behaviour of the plugin can be changed via the SOBI2 administration panel.
You will find the plugin in our Download Section.
Requires at least OpenSEF 2.0.0-RC5_SP2 and SOBI2 RC2.8.0
Install it in the Plugin Manager of SOBI2