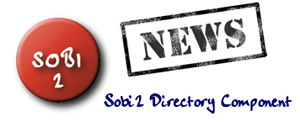 We released a new version of Radius Distance Search Plugin to be compatible with SOBI2 RC2.8.x.
The "Radius Distance Search" plugin for SOBI2 allows you to add proximity search easily to your existing search form in SOBI2. The visitor on your page just has to enter his zip code, select the maximum distance from it in miles or kilometres (adjustable in SOBI2 back-end) and he will get all matching SOBI2 entries, considering the standard SOBI2 search results.
Features:
Easy to install, using the standard SOBI2 Plugin Interface
Includes Open Geo Database from the GeoNames database
Includes 12 months Update Service and Support
Does not require any source code modifications
Ajax Autocomplete function
Three Search methods selectable:

Search using geographical coordinates (longitude and latitude for each entry necessary - see Sobi2Wiki for an easy way to get the coordinates in SOBI2)
Search using Postal Code - National (only postal code for each entry is necessary)
Search using Postal Code - International (postal code and country code for each entry are necessary)

Own database. No need to connect to an external server.
Administration of the plugin is in English language.
The following front-end languages are available: English, French, German
Changes made:
Now compatible with SOBI2 RC 2.8.x (does not longer work with older SOBI2 versions)
Special characters on whole site are not longer modified by the plugin
Selection of auto search list entries with the mouse in IE is possible now
Some language corrections
Full Description of the Plugin
Requires at least Joomla! 1.0.12 or Mambo 4.6.2 and SOBI2 RC2.8.0 installed, MySQL version 4.1.2 or higher, Safe Mode off, Iconv Library installed, allow_url_fopen = on or Client URL Library installed. The plugin doesn't work with older versions of SOBI2.