rejected
Submenu Items for Components>SobiPro
Submitted at:  7 May 2018 03:04:38
Supporting additional links for the SobiPro submenu items would, on the whole, save many clicks and load time when jumping around the backend. Suggested submenu items:
• System Settings
• Access Control List
• Application Manager
• Template Manager
• Sections
○ [user-created sections]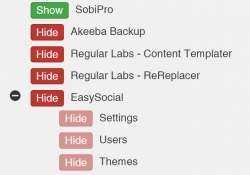 This submission has been rejected.
Reason for rejection:
There is only ONE additional click (to the SobiPro CPanel). Within SobiPro you can reach each menu from each menu. The effort is out of all proportion to the benefit and cannot be realized by our very small development team (unless we have nothing else to develop).