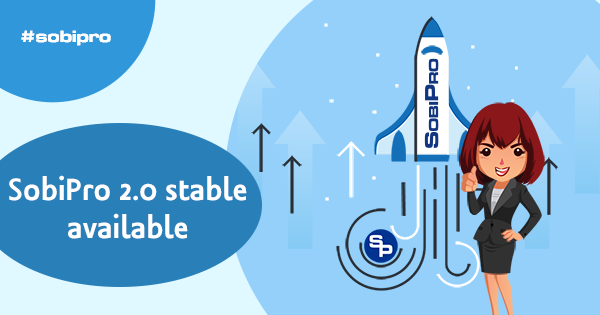 SobiPro 2.0 stable is now available to download.
We also released the stable version for the SobiPro demo package. This version is available for visitors without a subscription.
We are still working on the conversion of all our applications. Next converted Beta releases will follow. As until now, no one reported bugs for the beta versions of our applications we already released, we will mark them as stable soon. As there are no reported bugs, you can use the beta versions of our applications without problems.
If you find a bug in SobiPro 2.0, please report it in our bug tracker.
Short summery of the changes in SobiPro 2.0:
Supports Joomla 4.1 and 3.10.
Uses now Bootstrap 5 and Font Awesome 5 as backend layout frameworks. To use SobiPro 2.0 also on Joomla 3, we have created our own Bootstrap 5 based backend framework called Dirgiskedar.
The new SobiPro has greatly improved user accessibility.
New feature 'Action Log' added: the last items of the history/logging are shown in the dashboard. All action log items are shown in the global configuration. Additional actions added for application and acl handling, category, section and field modifications.
Fields handling improved: separate placeholder texts for inbox and textarea, checkboxes with switch style (Bootstrap 4 and 5 only), floating labels for inbox and textarea (Bootstrap 5 only), floating title labels for url, button and email field (Bootstrap 5 only). An extended search type/method 'inbox' is available for input and textarea fields, which lets you add separate input fields for search terms.
Image field: Setting a custom alt tag text for images is possible now, placeholders can be used in the alt tag text for images.
The publishing and list date formats can be setup now in the global configuration instead of the configuration file.
The global configuration file (config.ini) can now be changed from within the global configuration.
The dashboard (formerly control panel) got its own configuration page with several new dashboard settings.
Editing an entry in backend now supports most of the frontend layout settings setup for the fields.
Completely rewritten SobiPro template default7. It supports Bootstrap 2, 3, 4 and 5 as well as Font Awesome 3, 4, 5 and Google's Material Icons and has a lot of new and handy template settings and features new colour themes.
Bugs fixed.
Applications:
Due to the usage of the new backend layout frameworks, the administration templates for SobiPro backend views have changed. As a result all SobiPro applications need to be rewritten. We will successively update all applications and hope to have them all changed with the release of SobiPro 2.0 stable.
Documentation:
Because of the new administration layout, the documentation has to be adapted too. We will do this as soon as we have completed the development of the applications. Until then, you can use the documents of SobiPro 1 as a base, keeping the changed screenshots in mind. Most of the new features and settings are self-explaining, and it should be easy to understand them. If you still have questions our support will help.
SobiPro Templates:
Previous SobiPro templates are supposed to be working as usual. However, it might be necessary that a few corrections need to be made, depending on your own modifications in your template. As soon as we completed updating our applications, we are going to offer an upgrade service for previous SobiPro templates. Until then, our support team, as usual, is going to help our customers with all needed modifications.
It is highly recommended to upgrade your SobiPro template to the new default7 template of SobiPro 2.0 in order to make use of all new features and Bootstrap 5 and let the templates of the applications work out of the box!
Installation:
Please note, the SobiPro 2.0 update converts your database to be used with SobiPro 2.0. You cannot go back to SobiPro 1.x. Please evaluate SobiPro only on a testing or developing site (backup of your site) or a new installation!
Please check also the full changelog list for all changes and bug fixes.
A few screenshots of SobiPro 2.0: