As SobiPro applications do not have the possibility to add a Joomla update server, Joomla cannot show the availability of new versions of an application as for Joomla components, modules and plugins.
However, we have implemented our own update notification system to show updates of SobiPro applications. A new version of an application is available if there is a new version of it in the Sigsiu.NET repository.
If a new version of an application is in the repository, a notification similar to the Joomla update notification is shown in Joomla's CPanel. This notification is shown only once after each login to Joomla's administrator panel (back-end) until you update the application(s).

The notifications can be switched off by setting check_updates to false in SobiPro's main configuration file config.ini. See also Global Configuration Settings and File Override.
Please be warned that it is a risky behaviour not getting informed of updates!
When you click on View Updates you will be directed to the Available Applications screen of SobiPro's application manager. Click on Fetch Updates to get the list of new versions of the SobiPro applications.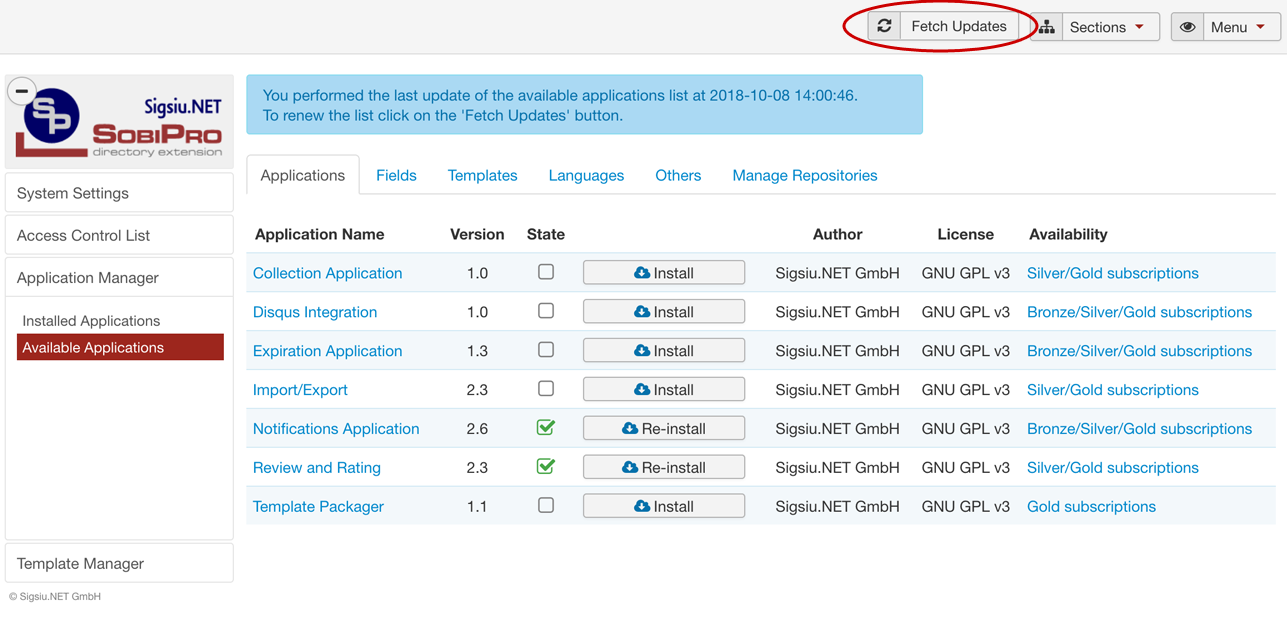 Now check each tab for outdated applications. An application is outdated if a bell sign is shown next to its name. The installation button text changed from Re-install to Update.

If you have an active subscription or the outdated application is available free of charge, click on the Update button to update the application.
Alternatively you can check the Version and Updates pane in SobiPro's control panel where outdated applications are marked in red. Clicking on the application name of an outdated application will lead to the Installed Applications screen of SobiPro's application manager.
Do NOT uninstall (remove) an application first, as all data and settings corresponding to that application will be deleted on un-installation (removal).
SobiPro modules and plugins are also standard Joomla modules and plugins. If they have already an update server implemented, Joomla will tell you if the module or plugin is outdated. The resource for this is NOT the Sigsiu.NET repository, but the update server we have implemented on https://xml.sigsiu.net/SobiPro/<module or plugin>. You will find the list of updates for our modules and plugins in Joomla's Extensions ➜ Updates.

Although if there is an update server defined for a module or plugin, updating a module or plugin via Joomla Update is not possible for modules and plugins which require an active subscription, even if you have an active subscription!
Trying to update a module or plugin will fail with error 403 (access denied). But you can click on the link https://www.sigsiu.net/center/applications/<module or plugin> to download the module or plugin1 and install it manually or go to SobiPro's application manager and install the module from the repository1.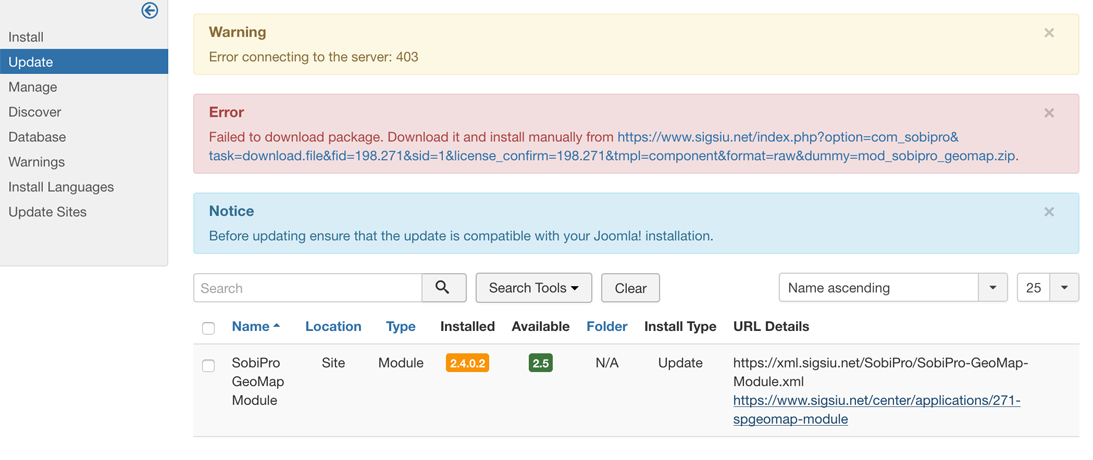 1 Active subscription required.